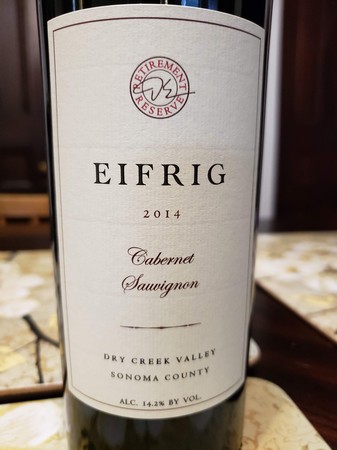 Cabernet 2014
The wine is a vibrant purple, with multiple layers of legs: starting with short fat slow ones and going to long narrow ones over the first minute. Aromas of sweet cedar, notes of cola, blueberry, and French herbs. A wisp or two of milk chocolate over the first 20 minutes.
The wine tastes of dark cocao, dry but with a hint of sweet. There's blue fruits and cola notes that fade to a lip smacking dryness. The oak is buried perfectly, not the headliner the 2013 was. The balance is amazing, and smooth. It matched a Bolognese and grilled Caesar salad perfectly.
After an hour, this is as pretty a wine as I can recall drinking in the last decade. It's delicate, and perfectly balanced with gorgeous aromas balanced by perfectly delicate and gentle flavors typical with the greatest Bordeaux and elegant new world Cabs.
At 100% Cab, I'm not sure what I could improve on. The aromas and tastes of salted caramel, on chocolate dipped pretzels… sweet, cocoa, salt, baked bread are mesmerizing.
We have less than 20 cases left !! (Our friend and grower Jim Ricci pinched some for a charity event that never happened; he gave it back to us, which means joy for you. Otherwise we'd be sold out years ago)
Wine Specs
Varietal
Cabernet Sauvignon
Appellation
Dry Creek Valley
Vineyard Designation
Ricci Vineyard