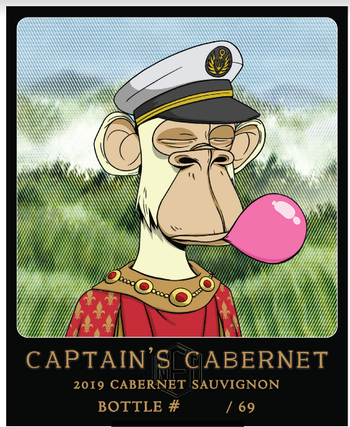 The Bored Ape 2019 in Magnums
What's up, Apes. It's Captain Ape # 6171… I've come out of retirement, left the Everglades, and set up shop in Dry Creek Valley. Partnering once again with celebrated Eifrig Cellars to launch magnums from Bored Captain Wines is exactly what I needed.
Being crypto rich and retired wasn't for me. I'm giving Apes special access to this very limited-edition bottle and newest vintage… it's a 2019 Cabernet Sauvignon from legendary guru Doc Eifrig. The Captain's Cabernet is for Apes who believe life gives us choices and opportunities even if we're bored to death.
We limited this run to 69 bottles. (When I said limited, I meant it.), and remember a magnum is two bottles of wine... 1.5 liters to be exact. This will be one of the best Cabernets you've ever had. And once you're done being blown away drinking it (the wine not the serum!) the NFT artwork on a magnum bottle, featuring yours truly, makes for a rare display piece. Here's what Doc reports...
This vintage is a dark inky purple, with multiple and complex legs that last for minutes, hinting at the future: the initial short fat slow ones segue to medium fast and finally two or three lines tease you to wait. We love the classic aromas from Ricci Vineyards (terroir for sure). We get sweet oak sawdust and cedar box, hints of cherry cola, blueberry, and French but gentle aromatic herbs. A wisp or two of milk chocolate and red fruit hovers in the glass forever it seems.
Tasting it reminds me of the 2009 with red and blue fruits balanced up against cola and sweet oak. There's the usual lip smacking but this vintage drinks with a powerful elegance. The terroir of Dry Creek Valley, with grapes and French oak highlight the broad palate of a red wine with delightful lingering flavors and polyphenols.
After 20 to 30 minutes of air... this wine is explosive. It's elegant and expressive like all the great Cabernets (both old world and new) from around the world.
At 98% Cab, and a splash of Merlot from my same vineyard, I'm not sure what could taste better. The aromatics and finish are mesmerizing. And impossibly not boring. And remember that a Magnum is 2 bottles of 750 ml bottles of wine!
Wine Specs
Varietal
Cabernet Sauvignon
Appellation
Dry Creek Valley
Vineyard Designation
Ricci Vineyard