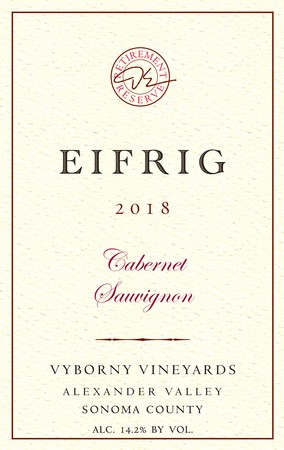 Cabernet Sauvignon 2018 Alexander Valley
This is our second vintage of Cabernet Sauvignon from Alexander Valley!!
By sheer luck, in 2017, famous grape grower Alex Vyborny had offered me some of his Cabernet fruit two weeks before fires prevented us from picking from Dry Creek Valley.
The location was a dream come true for me... his vineyards sit between the famous Silver Oak Cabernet vines and Peter Michael's world class properties in the middle of Knight's Valley. B-I-N-G-O!!
This vintage is sublime. The color is a deep dark purple with inviting aromas of darker fruits and sweet oak. With hints of sandalwood, salty air, orange peel, and soft oak and wisps of cedar. The flavors are classic Alexander Valley terroir. There's darker fruit, but milk chocolate and baking spices pop into the finish. The after tastes linger perfectly and leave me smiling. We did it again!!
This reminds me of the old-world styles of Napa Cabs from the 80's and 90's but without the fruit bomb forward style that never ages. There's also the elegance that French Bordeaux and Eifrig Cellars is known for. It's also perfectly balanced and will age well.
Drink from 2022 to 2028. Produced 68 cases, with just 29 remaining.
Wine Specs
Varietal
Cabernet Sauvignon
Appellation
Alexander Valley
Vineyard Designation
Vyborny Vineyard